Curious, curious. First off, the sticker above the label on the back of this bottle appears to be in Chinese for some reason: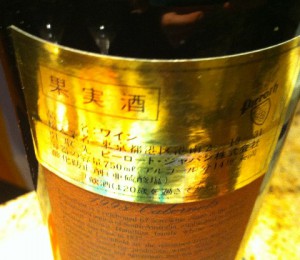 If memory serves me correctly, I bought this at the winery in the Spring of 2002. At the time, it tasted pretty fantastic to me, so I schlepped a bottle home, moved it a few times, forgot about, and then was reminded of it this week when Julian reviewed the 2008 version of what I assume is essentially the same wine.
So: how's this one? Well, just for grins, let's quote Mr Halliday:
The bouquet is fresh, with aromas of mint and leaf, and minimal oak: the palate is elegant, but pretty light for a '98. Best drinking: 2002-2004.
Oops… guess I left this one in the cellar too long. Or did I? Well, let's see: the color is no longer pretty light: instead, it's a fairly dark, rich, squid ink black with some watering at the rim. The smell is reminiscent of entry-level port: somewhat fruity, a hint of wintergreen, and not terribly much else. In terms of taste there's a faint hint of unripeness, but that's just fine; without it, it would be too simple, too fruity. There's still just enough tannin to keep it from being completely without interest, but only just barely: although this doesn't taste bad, it really doesn't taste good, either. If tasted blind, this could almost be mistaken for sweet and sour McNugget sauce: simple, slightly sweet, with a little bit of acidity.
Eventually, however, the wine did in fact display some reasonably interesting notes of wood and dirt, but those were sadly overwhelmed by marked acidity on the palate. I do believe that I let this one slip away from me. Lesson learned: I should have drunk this six years ago.
Leconfield
Price: A$30.95
Closure: Cork
Source: Retail