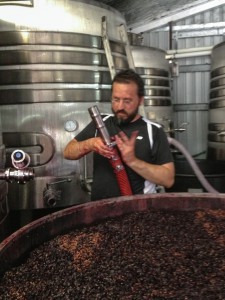 The main reason for me undertaking a series of vintages is to learn about making wine. However, a range of other nuggets have been regularly dropping into my lap along the way; for example, just a couple of days ago I stood corrected on the issue of the name of one of the country's oldest, most famous regions: McLaren Vale. Following a reckless tweet, I now have it on good authority that McLaren Vale is not preceded by "the." Dear readers, you have been thus advised.
Shameful, really, to perpetuate such an error regarding one of my favourite Australian wine regions, one in which I find myself right now, in the throes of assisting producer Dowie Doole with vintage. I've long had warm regard for Dowie Doole wines, which regular readers of this site will already know. The portfolio mixes traditionally styled reds with an adventurous Chenin Blanc-driven white portfolio, always cleanly made and generously styled. I've also enjoyed an entertaining email correspondence with Leigh Gilligan, Managing Director of Dowie Doole and McLaren Vale veteran. When he became aware that I was looking for vintage opportunities, he offered me a cellarhand place from late February to the end of March, which takes in the bulk of vintage activity. I've not always found wineries amenable to considering a wine writer, no matter how niche, for a vintage cellarhand position, so I am grateful for his willingness to give me a go.
I'm primarily involved with making red wines here, and the learning curve is steep after focusing on Chardonnay at Lake's Folly. One exception is a rather interesting, oxidatively handled Vermentino that is (wild) fermenting in barrel as I type, hopefully becoming something delicious and beautiful. Dowie Doole's red styles are in the mainstream of McLaren Vale wines, privileging drinkability above eccentricity, and are made in small lots using highly manual winemaking approaches. Chris Thomas is Dowie Doole's winemaker, and the red wines are made at the winery formerly occupied by Wayne Thomas (father of Andrew) and now by Tim Geddes. Chris is energetic in a way that I don't think I've ever been and patiently talks me through each decision and operation. He also has strong views on wine, which seems to be a mark of all the winemakers I find interesting. It's all that I could hope for, really.
To say that I ache all over is a vast understatement, yet each morning when I arrive at the winery, the body warms up and the learning continues. It's been a while since I've had to learn so much every day just to keep up. Pumps, hoses, fittings, cleaning, presses, pump overs, rack and returns, additions, measurements, vineyard sampling; even after less than a week's work here I'm slightly astonished by the number of winemaking operations I've been exposed to. But this is just how it happens, and as my sense of incompetence fades, I'm able to look up now and then and smile at the fact that I'm actually helping to make some pretty damned interesting wines with a bunch of people I really like.
I even had a moment where I thought I might just be able to do this.
The timing of all this proved interesting. In the lead up, I checked with Leigh as to my start date, and all looked good for a gentle easing in from late February. A couple of hot days, though, brought forward several parcels of fruit, and just hours after arriving in the region, I started work in the winery. So far, we've processed some Tempranillo (destined for the G&T label), the aforementioned Vermentino, which is bottled under Dowie Doole's experimental range, and several parcels of Shiraz. It fascinates me how diverse the flavours of fruit can be from day one. Of the parcels of Shiraz we are currently fermenting, some are dark and structured, some are vibrant and fruit driven, others sit somewhere in between. It's exciting to see them evolve through the fermentation, and a big learning for me is seeing the ways in which flavour and structure change through this process. I can understand a complete lack of interest by some in anything but the finished wine, but for this wine obsessive seeing the evolution of a wine from its raw materials is quite compelling.
Chris made an astute observation the other day about the difference between winemaking as taught at University and as practiced in the real world. Production management is just an idea at school, something to engage with when planning the capacity of one's theoretical winery with the theoretical budget assigned by one's lecturer. In the Hunter, I had some glimpses of the importance of logistics in many winemaking settings, but now that I'm seeing first hand the challenges associated with having to process sixteen parcels of fruit through five open fermenters in a single vintage, it has somewhat radically changed my understanding of the options that may or may not be available to winemakers. What does one do if Cabernet is ready to come off but there's several lots of Shiraz sitting on skins post ferment? Does one delay picking, or press ferments earlier than is ideal? This is winemaking in the real world, encumbered by annoyances like space, time and money.
The next few weeks ought to be bloody interesting.